Wine Tours
Offering breathtaking scenery and awe-inspiring views, your private wine tour with Limos of Napa is sure to rank among your most memorable vacation getaways. With each winery, you'll experience what makes the region's resources prized among even the most knowledgeable wine connoisseurs. Our Sonoma Valley or Napa Valley wine tours are designed to ensure safe and secure relaxation.
Accommodating even large parties of up to 16 passengers, we are Northern California's most extensive limousine service. If you've never had the opportunity to explore the area before, we can help design an itinerary that includes some of the most popular and highest rated wineries and vineyards or, if you prefer, you can tell us exactly where you and your guests would like to visit.
With Limos of Napa, your town car driver is much more than just the person behind the wheel. Our private chauffeurs have all been specifically selected for their passion for wine, their outgoing personalities, their knowledge of the area, and their proclivity for fun. Aside from their stellar driving records, each of our limo drivers is skilled in providing an enjoyable and memorable experience for all. For us, it's a privilege to live in the Napa Valley, and we can't wait to brag about what's best about Northern California's wine country.
From boutique vineyards to legendary wineries, you'll be able to enjoy your private wine tour in complete luxury. Our luxury limousine service promises comfort and safety as well as unsurpassed personal care. Fully stocked with your group's choice of snacks and beverages, your Napa limo offers a full day of delights at a surprisingly affordable rate.
Discover why the region's wine tours rank among the best in the world by scheduling yours with Limos of Napa today. We specialize in bachelorette parties, corporate team-building events, and romantic escapes for couples.
Save Up To 25% Off

Major Limo Companies for the Same Limos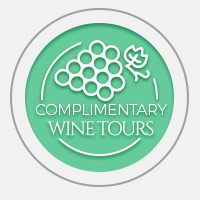 Complimentary Wine Tours

We design wine tours for you at no additional costs